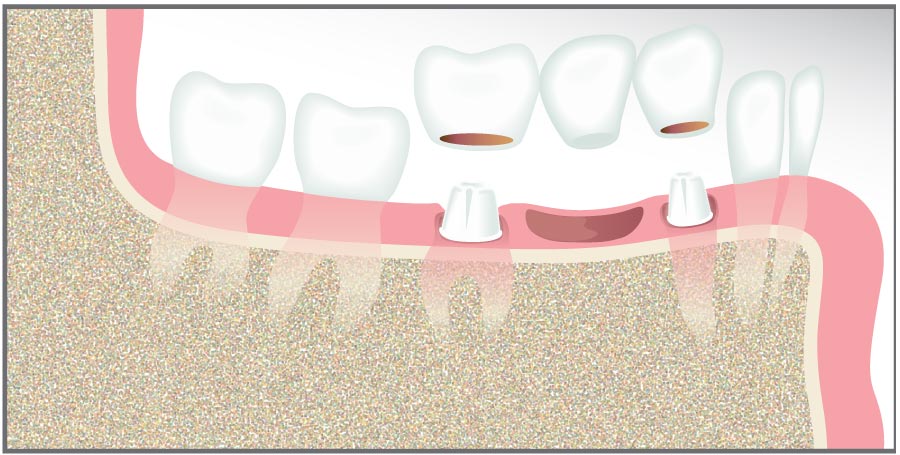 Dental bridges and dental implants are both tooth replacement options, but how are they different? Is one better than the other? Let's explore everything you should know.
What Are Dental Bridges?
A dental bridge is a good tooth replacement if you're missing a few teeth next to each other. They work by attaching to the teeth you have left on either side of the gap, restoring your smile's appearance and chewing function. To care for your bridge, brush and floss daily and visit the dentist for routine cleanings and exams. Bridges can last 15 years or more!
What Are Dental Implants?
Like dental bridges, dental implants are a common procedure if you're missing a few teeth. The main difference is that a dental implant requires surgery. We place a biocompatible post in your gums, where it fuses to the jawbone. Once you've healed, we top the post with an artificial tooth. This makes implants the most natural tooth replacement and the only one that replaces the missing tooth root. The implant and artificial tooth can't get cavities, but you still need to brush, floss, and visit the dentist for cleanings.
Which Is Better?
Both bridges and implants are great tooth replacements, but one may make more sense for you. Cost is often a determining factor since dental implants tend to be more expensive. Also, if your jawbone isn't strong enough for an implant, you would need a bone graft. If you don't want to go through that whole process on top of surgery for the implant, a bridge could be the better choice.
On the other hand, implants are the only permanent tooth replacement option. Unlike bridges, implants also preserve your jawbone density. When you come in for a consultation, we'll explore both options and help you decide which is best for you.
Dental Bridges & Dental Implants at Chaney Dental in Prairie Village, KS
If you're missing one or more teeth and want to restore your smile, dental bridges and dental implants are great options. Dr. Chaney and the team will make sure you have all the information you need before beginning work – including an accurate cost estimate. Have questions or want to schedule a consultation? Please contact us today!